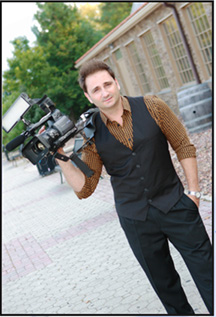 If you are interested in video coverage of your event you will ACTUALLY watch, a montage that will captivate/entertain your guests and Flexible Professional Photography Hollywood East is the company for your next Special event celebration!
Frank Duca, owner and creative director has 20 plus years of experience in the entertainment broadcast arena on countless film TV and special event productions such as Law & Order, MTV Music Awards, Mercedes Benz Fashion week, Access Hollywood, The Cannes Film festival, NBC Olympics, Yankee Baseball, SNL, The Today Show & The Super bowl to name a few.
Because of our different approach and experience we are confident only our product and staff, while being your smallest expense of your total event budget, will provide you with the highest return on your investment! All your planning is done to provide one thing...A smile on your family's face. A moment...then a memory. Unfortunately Inferior event coverage over the years has pushed the need to document that memory to a less important need...When in fact it is the MOST Important! We have built A company that our clients can depend on to change the perception of event coverage in this industry.
Please visit this site and review all that we have to offer in the way of Award winning Montages, Unique Red carpet arrivals, video coverage, photography and Music television quality entrance/music video favors to help in taking your event from Memorable to Incredible! Read this ultimate testimonial that says it all!
"I was on the fence regarding video coverage for my daughter's Bat Mitzvah. I thought the photos would be enough of a memory, but I was very wrong. Frank Duca and Hollywood East, whom I was referred to as producing a fresh and amazing representation of your event was great to deal with from start to end. He was professional and non intrusive, yet always at the right place at the right time throughout the evening. The final edited video is absolutely fantastic! Nothing like the standard slow moving product we all are tired of. I highly recommend Hollywood East and will definitely hire them again for my younger daughter's Mitzvah."
– Wendy Richmond, Princeton NJ